R.I.P "Zoey"
"Oscelly Diamond"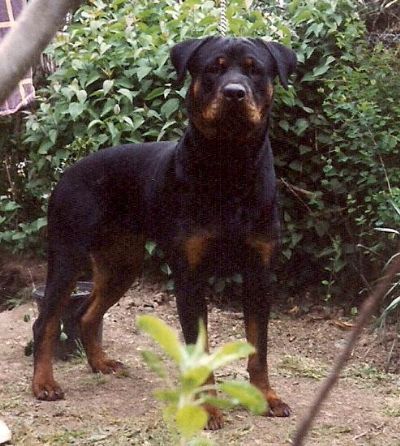 30-6-1995 - 5-5-1998
s: Aust CH. Tepavili Daante d: Murraleah Quinnella
Zoey came to me from Glenice & Cameron Miller of Oscelly Rottweilers, she was a beautiful bitch whom I didn't start showing until she was 2years old. She had several CC's & RUBOB's when her life was tragically cut short due to an illness that took her life 11 hrs after she fell ill. She was my best friend & losing her so young left me shattered. Zoey was a medium sized bitch with a beautiful temperament, black eyes, black mouth with complete dentition, beautiful movement with a very strong topline, with excellent angles.

Have you ever had a special friend, that meant the world to you, one you loved so very much, and miss her like I do. Have you ever had a broken heart, or ever felt the pain, or ever shed so many tears, that came like falling rain. If you've never had that feeling, I pray you never do, for when my Zoey quietly left me, My heart just broke in two. If only I could hold her, and touch her lovely face, For she was my Zoey and can never be replaced.


Zoey got her wings on the 5th May 1998.
Contact Details
Joanne Swanson
North West Country Victoria, VIC, Australia
Phone : 0401206680
Email :
[email protected]