Darkcide California Hot Chilli VP1 & CISS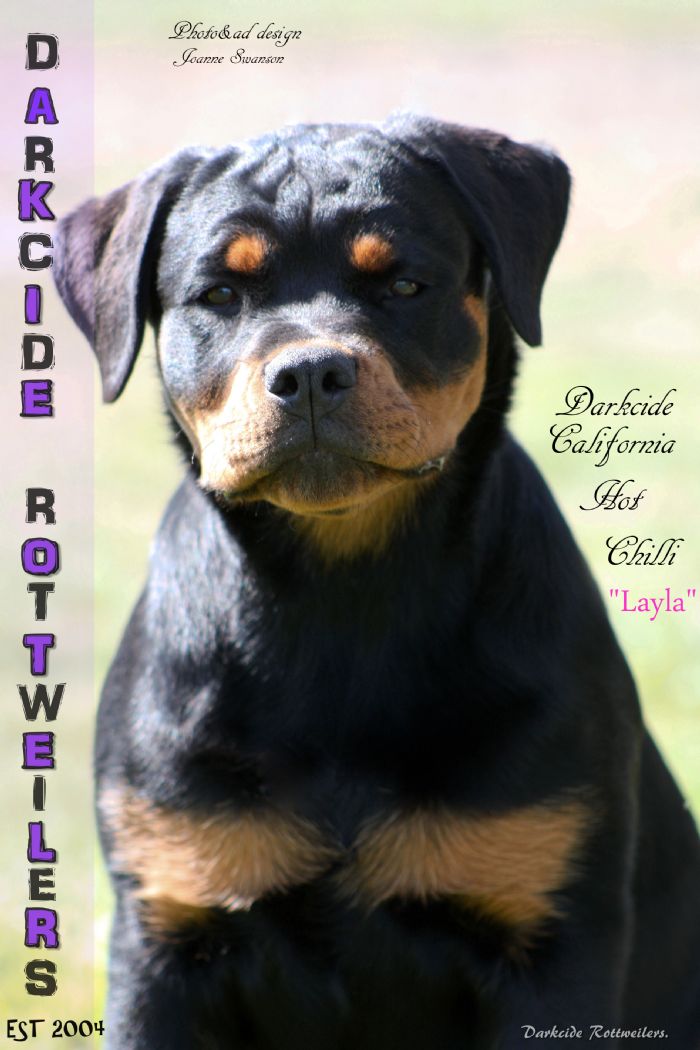 LAYLA
Layla is a very pretty bitch with a strong female head, very good cheek, eye & muzzle fill, very good mouth pigment with dark almond shaped eyes, excellent prosternum with excellent angles front & rear, straight legs with lovely tight knuckled feet, clear markings of good colour, very good pasterns & hocks with an excellent temperament.
At the Rottweiler Club of Victoria 65th Championship Blue Sapphire show under breed specialist Mrs Susie Baird (Australia) Layla was awarded VP1 BEST minor puppy bitch & then went onto win BEST MINOR PUPPY in SHOW this was the first time Layla travelled in a float and the first time she had been to a dog show and she handled it brilliantly. We thank her co-owners Stacey & Daniel for having this girl in excellent condition (body & mind) for us to be able to just take her and attend these shows.
Layla has had all her health testing done to NRCA standard and passed.
Full dentition with a scissor bite, eye certificate, JLPP clear.
Right hip- 9, Left hip- 3, Right elbow- 0, Left elbow- 0.
Contact Details
Joanne Swanson
North West Country Victoria, VIC, Australia
Phone : 0401206680
Email :
[email protected]