Darkcide Hollywood Blvd
Darkcide Hollywood Blvd.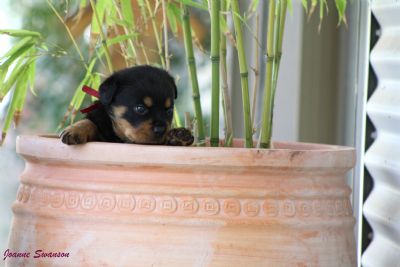 "Demi" is a strong Girl with very good substance, Beautiful strong head, strong muzzle, Very dark mouth pigment, lovely clear markings & wonderful temperament. She was the heaviest Girl in the litter and the second heaviest overall. Demi is co-owned with my very good friend Jo-anne who has waited a very long time for this special girl. Demi will be campaigned in the Specialty ring & the Obedience ring. A beautiful puppy who I think has a very bright future ahead of her.
Demi is JLPP Clear.
Hip scores- RH-2, LH-2, hip grade-1.
Elbow grade- R0- L0
Demi was x-rayed at 2yo.
Critique from the Rottweiler Club of NSW Champ Show 12th-14th April 2014.
Judge- Mr Frank Beiboer (Netherlands)
Baby Puppy Bitch- 4 Months old, very good build, very good proportions, very good head needs to be drier on skull, good stop, brown eyes, scissor bite not yet complete, pigmentation could be darker, good top and underline, very good angulations, very good chest proportions for age, good bone, feet need to be stronger, very good coat, good size of markings could be a little darker, back has to be stronger, free movement.
Demi is the dam of our "Block buster movie title kids" and our "Dirty" kids, 7 pups shown to date at specialty level with all 7 VP rated, 3 pups VP1 and class in specialty show winners, her daughter Darkcide Some Like it Hot "Summer" wins Runner up Best in Show at the Rottweiler club of Vic open show at 17 months old, dec 10th 2017, her son Darkcide American Graffiti "Bronx" is awarded V6 & V3 at the first 2 shows he attends where he is eligable to V rate.
Contact Details
Joanne Swanson
North West Country Victoria, VIC, Australia
Phone : 0401206680
Email :
[email protected]